ECU Dental Clinics Receives $225,000 Boost from Dogwood Health Trust | Press services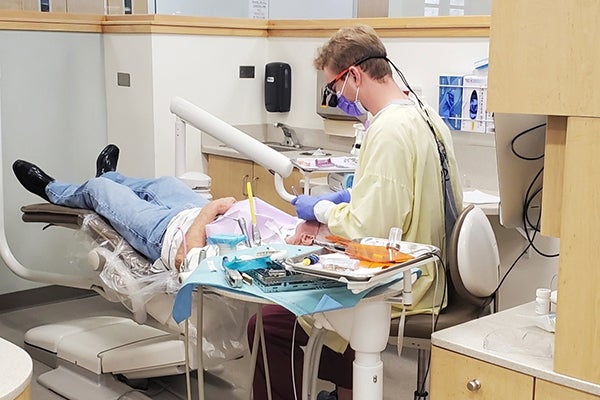 A major donation to the East Carolina University School of Dentistry will allow the school to increase services for low-income patients at two rural clinics.
The Dogwood Health Trust donated $225,000 for patient care at the School of Dentistry's Community Service Learning Centers (CLCS) in Sylva and Spruce Pine. The Dogwood Health Trust is an Asheville-based organization focused on improving the overall health of people in western North Carolina.
"This investment in our Sylva and Spruce Pine Community Service-Learning Centers by the Dogwood Health Trust will open the doors to much-needed dental care for patients in Western North Carolina who otherwise could not. receive," said Dr. Greg Chadwick. , Dean of the School of Dentistry. "The generosity of this grant is impacting both patient care and education, with potentially significant transformation of oral health care in our mountain communities and beyond."
In addition to providing oral health care, patient care funds enable ECU dental students to provide much-needed services while gaining valuable educational experience. Fourth-year students complete 27 weeks of intensive clinical experience in CLSCs and clinics. Each of the school's eight CLSCs has an economic impact of more than $1 million in their respective communities.
"Our clinic is one of the few in western North Carolina that regularly sees Medicaid patients. We provide a dental home to many patients who have financial problems," said Dr. Robert Manga, Clinical Assistant Professor and Director of Sylva Clinic. "Dogwood Health's donation is a great example of the local community trying to help those with financial limitations.
"The difference this will make in the lives and smiles of every patient is enormous," added Gene Self, Chief Commercial Officer of the Spruce Pine Clinic. "It will give them a healthier life, confidence and, in some cases, literally change their lives for the better."
Self sees the impact of working in the clinics daily. With patient care funds, a patient may be able to get a new prosthesis to restore their missing smile. A patient may be able to save a tooth instead of opting for the cheaper extraction option. And a patient who completely postponed care can finally be able to receive it.
"We are changing lives one patient at a time. And we serve the underserved, one of the goals of the School of Dentistry. Students also get to see firsthand what caregiving is like in our rural area and it inspires them to be more realistic, empathetic and successful in their own careers," Self said.
"This project was a win-win," said Dr Susan Mims, CEO of Dogwood Health Trust. "Regular, affordable dental care at clinics like ECU can help our neighbors in rural communities avoid pain and illness and reduce absence from school and work. The Spruce Pine and Sylva clinics also provide hands-on training for future dental professionals who may choose to practice in our area upon completion of their training.
In addition to support for the Spruce Pine and Sylva Clinics, $25,000 of the Dogwood Health Trust grant will be used for education planning and research to address the shortage of dental assistants and hygienists in the area. and the state. This could include partnering with peer institutions in western North Carolina to identify potential students who wish to pursue a career in dentistry and providing hands-on experiences at ECU clinics.
Related stories
New ECU dental school fund will support oral health care for veterans
ECU dental student builds future career on service and compassionate care